Laser Cutting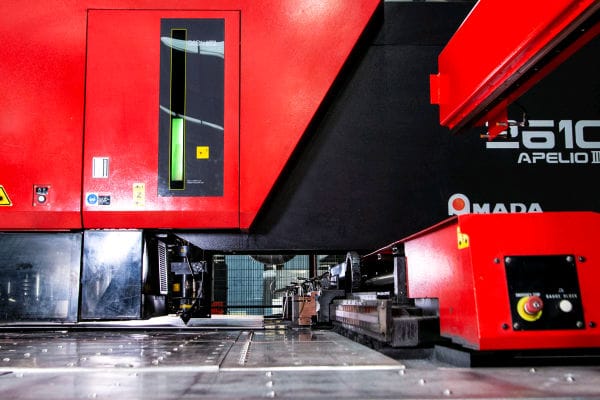 By utilising the industries latest technology and CADCAM software, Greengate Metal Components is able to provide customers with a high quality, efficient and flexible sheet metal profiling option.
Laser cutting is achieved by directing a high powered infra-red laser beam onto the sheet metal through CAD software systems. The energy is focused into a narrow point which then melts the material. High pressure nitrogen gas is then used to eject the molten material. This leave a clean and high quality cut.
The high accuracy and precision of the cut allows Greengate Metal Components to process all manner of shapes and design from simple components to high levels of complexity and accuracy (±0.02mm) across a wide range of materials.
The technology and software also allows for maximum material utilisation. The narrow cut width of the laser, the CADCAM nesting and lack of clamping allows the absolute maximum number of components per sheet resulting in minimal wastage and maximum efficiency. Greengate Metal Components can handle material sheet size up to 4mx1.5m.
Alongside standalone laser cutting Greengate Metal Components also offers CNC punch/laser combination machines. These machines can punch, form and laser cut sheet metal. This allows Greengate Metal Components to complete all of these processes without the need to change machine operation, maximising efficiency. To supplement these machines Greengate Metal Components operates fully automatic loading and unloading equipment allowing for full automation and 24hr operation.jp
Other services
that you may be interested in